LIVE SHOW'S
CELEBRITY TALK MONDAY
CELEBRITY TALK MONDAY IS A LIVE INTERVIEW TALK SHOW HOSTED BY TOO DEEP AND FEATURES INTERVIEWS WITH CELEBRITIES FROM YESTERDAY, TODAY AND TOMORROW!
PREVIOUS GUEST INCLUDE: KOOL MOE DEE, SPICE 1, STEVE ARINGTON (OF SLAVE), DJ DEE WIZ (DJ OF DOUG E FRESH), CHINGY, BAD BOY BILLY SLY, ROB SCHWARTZ, HOLLYWOOD LOGAN (DRIFTERS) JAZZ (FROM DRU HILL), MURPHY LEE (FROM THE ST. LUNATICS), BONE THE MAC, SUPREEM DA REZARECTA AND JUDAH PRIEST (FROM 144,000 & BROOKLYN ZU WU-TANG), SEXY PHYCO, THE GS BOYZ, 2 PIECE, JIMI RAIN AKA MUDD (FROM PROTECT YA NECK WU-TANG), HAVOC THE MOUTH PIECE (FROM SOUTH CERTEL CARTEL)  AND MORE 
TURN UP TUESDAY IS A LIVE INTERVIEW TALK SHOW HOSTED BY TOO DEEP AND FEATURES INTERVIEWS WITH INDIE ARTIST FROM ALL OVER THE WORLD  AND FEATURES SEGMENTS LIKE RUSH IT OR FLUSH IT AND  FREESTYLE FRENZY!
WILD OUT WEDNESDAY IS A LIVE TALK SHOW HOSTED BY TAY DIZM OF THE DIZM BOYZ AND FORMALLY OF NAPPY BOY, AND FEATURES WILD TALK ABOUT THE LATEST NEWS AND INFORMATION AS WELL AS INTERVIEWS WITH CELEBRITIES FROM YESTERDAY, TODAY AND TOMORROW!
THE MARCY PROJECT
Live from our Brooklyn Studio…
Live from our studio in Brooklyn, The Ryan Show Presents: The Marcy Project… Ryan, Dave & Cheeks invite a variety of guests into the quickly gentrifying neighborhood of Bed-Stuy. When we have no FM restrictions who knows how far things will go… 
The Cast
Ryan Verneuille

, 

Creator & Host:

 
 a retired sushi chef turned talk show host. After years of working menial jobs he decided it was time to take the bull by the horns. In 2015 he created a comedy podcast at a Hampton's sushi restaurant. The rest is history!
Hamptons Dave, Socialite & Cohost:
a high school basketball legend on the east end of Long Island. After years of living a life that would make a celebrity jealous he's earned the right to hone the title "Socialite".
Mr. Cheeks, Musician & Cohost:
 

Simply "Google him"… Mr. Cheeks spearheaded a lasting movement in Jamaica, Queens and is still building his already established legend. He won Grammys with Lost Boyz back in the 90's and created the strip club theme song, "Lights, Camera Action" back when the boys were in middle school.
DJ K Bliss, The Ryan Show Official DJ & Radio Personality: 

 
Watching her mom get ready for a fun night on the town by listening to the latest grooves dancing and smiling, is how DJ K Bliss began to equate music to happiness. Calling Florida, Massachusetts, and Brooklyn all home at different points in her life DJ K Bliss' musical style is just as broad as the places she's previously called home. Her fusion of Hip Hop and R&B, Funk, Soul, Top 40, underground and EDM, make her DJ sets a non-stop good time. With 

"Music is

 

Bliss" 

as her motto, DJ K Bliss works to give the world a moment to connect to experience happiness within their day.
Nick Tilleli, Stand Up Comedian:

 
 Nick Tilleli is one comedy's rising stars. He was a finalist in Governors Long Island Comedy festival. He took his quick wit, sharp mouth, and unmatchable sense of humor to New York City. Where he came in first place at Broadway Comedy Clubs Summer Festival. All while being a cohost to the popular Fox News associate Live From Studio 6B. Nick hosted his own segment titled "Tillelis Take" which he wrote, edited and produced. Commenting and poking fun at social, current and global news. He now currently works all over the tri state area and is a regular on the nationally syndicated Ryan Show.
Executive Producer
Erick "The Green Eyed Bandit" Sermon: 

Long Island's most decorated producer has teamed up with The Ryan Show and brought the crew down to his legendary Def Squad Studios. Erick's work ethic, talent and natural ability to create has led to outstanding results since the start of 2019.  For more info on the career of EPMD's own E Double go ahead and google him.
Director of Operations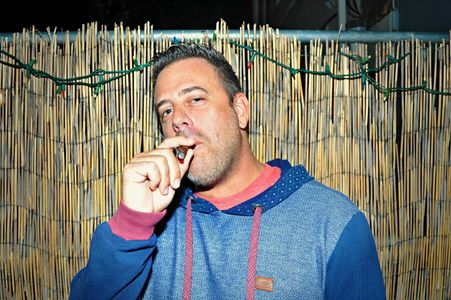 Jimmy "Vegas" Massacci: 

 Jimmy Vegas was born in a small declining steel mill town in Ohio, and from the beginning, his escapes were music and art. Bouncing from job to job Jimmy decided he needed more out of life.  In 2001 he took a leap of faith, quit his job, moved to Vega and started what would become a very successful consulting firm.  After accomplishing everything he set out to do in Las Vegas, Jimmy moved to Florida where his art was discovered in 2007. Since then Jimmy has been well known for being an outspoken, controversial artist, Social Media influencer, entrepreneur, philanthropist, avid hip hop fan, and TV personality.